Model NO.:
as requirement
Coating:
Syrup or pulp waste
Machining Tolerance:
+/-0.02mm
Certification:
CE, ISO 9001:2008
Place of Origin:
Shandong(Mainland)
Standard or Nonstandard:
Nonstandard
Castig Type:
Silica Sol Casting, Precision Casting
Qualiy Control:
Professional QC Stuff, Spectrograph
Unique:
China Golden Supplier
Dimension:
According to Drawing
Transport Package:
Iron Box, Plywood Box
Specification:
SGS, ISO9001: 2008, ASTM, GB, DIN, EN124, CE
Origin:
Weifang City. Shandong Province. China
Precision Metal Sand Die Lost Wax Investment Casting for Machining Parts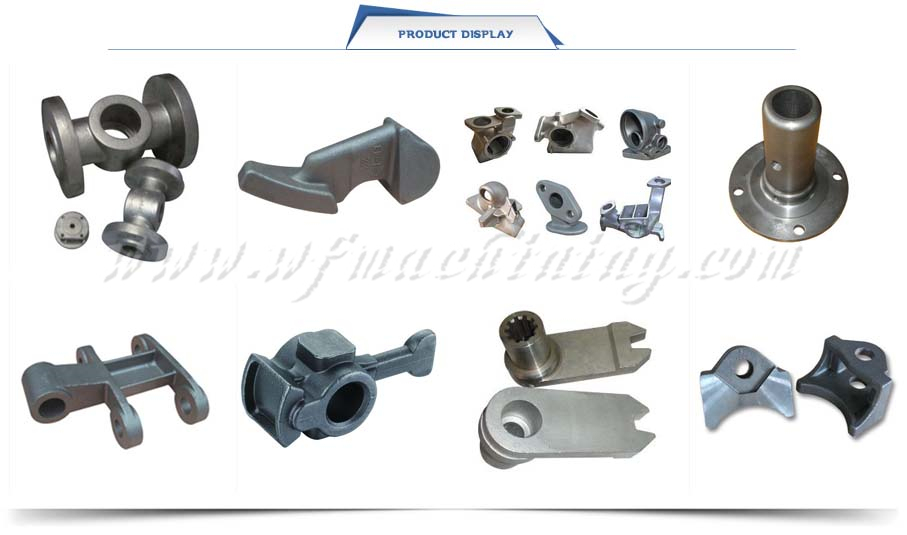 A. Sodium silicate precision casting.
B. Steel, SST.
C. Weight: Upto 7000KG.
D. Pump body, impeller, etc.
E. Hydraulic test, and other necessary inspections available.
F. Further machining: CNC machining, turning, milling, planing, grinding, boring, drilling, threading as your drawing.
G. OEM service.
H. ISO9001: 2008.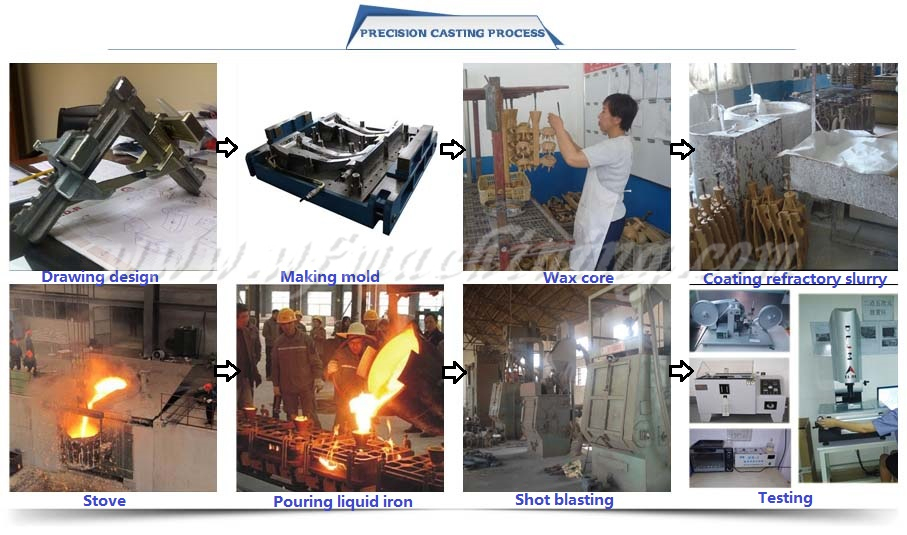 Other typical products:
Scaffold fittings, Template parts, Railway fittings, ring flange, electromagnetic steel cover, piston, pressure plate, center plate, wear plate, cylinder, impeller, disc etc.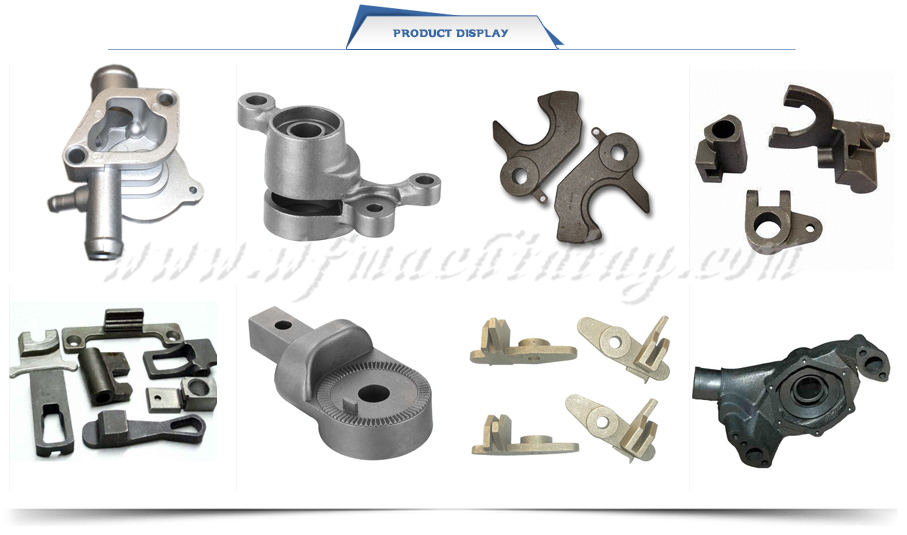 Casting capacity:
1. Casting classification: Sand casting; Precision casting; Vacuum process casting etc.
2. Gray iron, ductile iron, stainless steel, carbon steel, alloy steel, etc.
3. Adoption standard: BS, DIN, ASTM GB etc.
4. Weight range: 0.5~5000kg.
5. Producing capacity: 2, 000 tons per month.
6. Main application: Metallurgy; Machinery; Plastics; Rubber; Pharmaceutical;
Textiles; Mining; Paper-making; Packaging.
7. Main equipments: Furnaces; Heat treatment furnaces; Direct-reading spectrometer; Shot -blasting equipments, etc.
8. Surface treatment: Polishing, plating, shot blasting, heat treatment, etc
9. Inspection and test: Foundry in home, third part inspection, Material report, UT, MT, RT, and PT, etc...
10. Packing and shipping: Stand export packing; 20day make modul & sample; Delivery time against your quantity.
11. Casting service: Your logo, character, trade name, number etc can be casted on the surface clearly.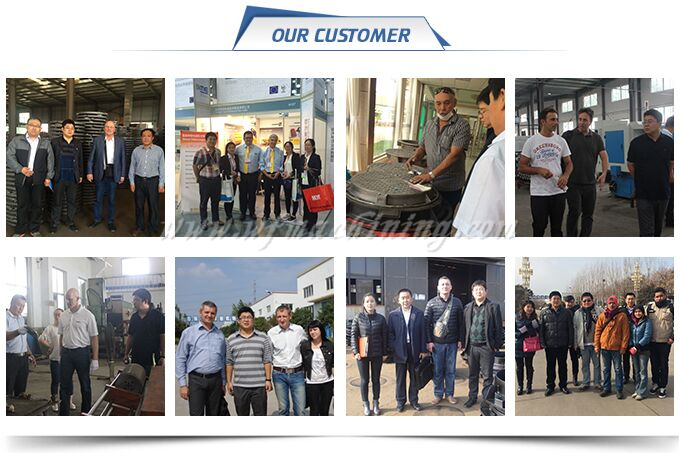 casting,castings,foundry,precision castparts,die casting,investment casting,precision castparts corp,sand casting,precast,centrifugal casting,cast steel,lost wax casting,metal casting,percision castparts,investment castings,casting china,sand casting foundry,investment casting foundries,aluminum casting companies,casting lost wax,lost wax casting service,loss wax casting,stainless steel casting,investment moulding,china casting,investment casting stainless steel,investment casting
 
Carbon steel
castings
ASTM A216-Gr. WCB, Gr. WCA, Gr. WCC;
ASTM-415-205, 450-240, 485-275, 80-40;
DIN- GS-C25(1.0619), GS-38(1.0416),
GS-45(1.0446), GS-52(1.0552), GS-60(1.0558);
JIS-SC410, SC450, SC480, SCC5;
BS-A1, A2, A5;
NF-GE230, GE280, GE320, GE370
Soluble glass sand moulding
Resin-sand moulding
Lost wax casting
(Investment casting)
Lost foam cast
Shell-core cast
Electric-furnace smelting
Stainless steel
castings
ASTM-CF-8M, CF-8, CA-15, CA-40, 316, 304;
DIN-G-X6CrNi18 9(1.4308), G-X7Cr13(1.4001)
G-X20Cr14(1.4027), 1.4408;
JIS-SCS13, SCS 1, SCS 2, SCS 14A;
BS-304C15, 410C21, 420C29, 316, 304;
NF-Z6CND18.12M, Z6CN18.10M, Z12C13M, Z20C13M
Soluble glass sand moulding
Resin-sand moulding
Lost wax casting
(Investment casting)
Electric-furnace smelting
Alloy steel
castings
DIN-GS-40Mn5(1.1168), GS-20Mn5(1.1120);
GS-37MnSi5(1.5122), GS-34CrMo4(1.7220);
JIS-SCMn3, SCW480, SCSiMn2, SCCrM3, SCMnCR3;
ASTM-LCC
UNS-J02505, J13048
NF-G20M6, G35CrMo4
Soluble glass sand moulding
Resin-sand moulding
Lost wax casting
(Investment casting)
Electric-furnace smelting
 
1. Q: Why choose Shengao product?
A: We shengao have our own plant-- Weifang Shengao machinery Co., Ltd, therefore, we can surely promise the quality of every product and provide you comparable price.
2. Q: Do you provide OEM Service?
A: Yes, we provide OEM Service.
3. Q: Do you provide customized precision casting products?
A: Yes. Customers give us drawings and specifications, and we will manufact accordingly.
4. Q: What is your payment term?
A: We provide kinds of payment terms such as L/C, T/T, Paypal, Escrow, etc.
Stainless Steel Precision Casting Parts with Machining Service
Quality First, Price Best, Service Foremost!
We assure you of ourbest services at all times!
1.High Precision BT SLA Side Lock End Mill Holder, apply to the holder of a DIN1835-B with a solid surface of the cutting tool, high speed and high precision machining .Mechanical spindle and cutting tools and other accessories.High Precision BT shank Tool Holder ,balanced G6.3 or G2.5 For choose.
2.Iproove cleanness,precsion more stable ,surface more smooth,feel more comfortable and appearance nicer. Chuck surface is coated ,the layer is evenly ,Chemical plating solution dispersion degree of almost 100%,nickel layer is thin .This special coating can reduce Spindle abnormal wear and tear.Don't influence precision .

BT SLA Side Lock End Mill Holder
End Mill Holder,Side Lock End Mill Holder,Side Fixed End Mill Shank,Side Lock End Mill Arbors
Shandong Chongde Precision Machinery Co.,LTD , https://www.springcollet.com